Agile leadership

Certified Agile Coach Training

You accompany teams or organizations in an Agile transformation?
You want to support your agile environment as an agile coach to be more effective and efficient? You want to take the next development step for yourself personally? Then the Certified Agile Coach training is made for you.
The next dates for Agile Coach Training:
14.05. – 16.05.2024
13
days,
Darmstadt
,
German
5 modules / 13training days from 9:00 a.m. to 5:00 p.m. in 2024: 14.-16.05.; 13.-14.06.; 18.-19.07.; 03.-05.09.; 09.-11.10.
Trainer:
Mark Kepler, Frank Eberhard
Early-bird (?)
Early-bird
when booking 4 weeks before the start of the training
★ ★ ★ ★ ★
One of my best decisions

"New perspectives, new approaches and an open mindset. During the course, I learned to approach many things differently and thus prepared our company for the big changes in our industry. Result: new ways of making decisions, new sales methods, the development of our own agile fundamentals course for our industry, and a teaching position at my alma mater. The Agile Coach course at wibas was one of my best decisions in recent years - the one and a half years have changed my view of many things for the better in the long term."
- Jens Gnad, Managing Director LOGIC media solutions GmbH -

★ ★ ★ ★ ★
Combining agile ideal with real work

The wibas lecturers succeed very well in combining the technical input of an agile ideal with the real work on site. In every unit so far we got important impulses and this contributes decisively to the success of the introduction of the agile mindset.
★ ★ ★ ★ ★
Entertaining, challenging and unique

Entertaining, challenging and unique. The team from wibas succeeds in creating a space in every single session that allows your own personality and agile attitude to grow. This is not an off-the-shelf training but the chance to experience and internalize agile coaching.
Content of the Agile Coach Training Program

Module 1: Agile Universe, 3 days, May 14 - 16, 2024 in Darmstadt


Module 2: Product Ownership, 2 days, June 13 - 14  in Darmstadt


Module 3: Agile attitude and coaching, 2 days, July 18 - 19 in Darmstadt


Module 4: Agile Scaling, 3 days, September 03 - 05 2024 in Darmstadt


Module 5: Agile Transformation, 3 days, October 09 - 11, 2024 in Darmstadt


Individual coaching (2 x 1 hour by appointment)

self-organized learning groups


Interactive
Experience-based, interactive training with simulations and flipcharts, no slides

Accredited
Accredited trainers who explain real applicable agile methods and principles, not an interpretation


Innovative
Dedicated training rooms in the wibas training center with innovative equipment, no hotels
Certified Agile Coaches - the all-rounders when it comes to agility

Our working world has become complex and demands fast, confident action. No one can keep track of everything on their own. Interdisciplinary teams and agile working methods help to be effective in these challenges. But who orchestrates the good soloists in the team to real interaction and who shapes the environment in the organization in which such teams also thrive? As a wibas Certified Agile Coach you bring the right skills and the necessary attitude for this.
Our understanding of the role of the Agile Coach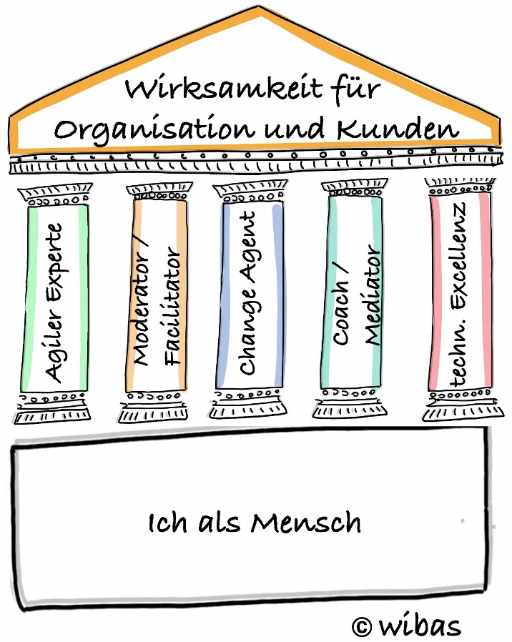 Agile coaches build an inspiring environment, spur on fellow team members, challenge and lead the way. They have ideas, tools and techniques at the ready that help individuals, support the team and move the organization forward. To do this, you need knowledge and skill, empathy and expertise. 
All these elements are part of the Certified Agile Coach training. We have developed the "House of the Agile Coach" as a guiding principle for this training program.

The Agile Coach training offers a learning journey through the "agile universe".
Together with a small group of participants, you undertake a learning journey of 5 months through the "agile universe". In a personal preliminary discussion that you have with our trainers in advance, we match prior knowledge and expectations and make sure that the training program fits your needs. We ensure a balance of theory and practice so that you can immediately apply what you have learned. Pre- and post-training assignments and personal mentoring create an individual learning path that ensures maximum transfer and guarantees holistic development.
Our coaching training is characterized by the fact that our trainers have many years of own experience as Agile Coaches, bring broad industry knowledge, and they thus convey the content from theory and their own experience.
Learning content of the Agile Coach training
The Agile Coach training takes place in 5 modules with different focuses. The modules of the Agile Coach training alternate between two and three days. They take place as face-to-face events in wibas training rooms in Darmstadt. The modules extend over five months, during which you remain together with the other participants as a learning group. The group setting enables intensive exchange and at the same time forms a protected space for joint learning.

In each module, we focus on a different content in order to illuminate the fields of application of the agile coach from different perspectives and to test them in practical exercises.
Module 1: Agile Universe
We start with the alignment of the agile equipment of knowledge and experience that everyone brings with them to lay a common foundation for all. It is about the working mechanisms behind the agile principles, about the interaction of the agile roles and about deepening aspects in the frameworks like Scrum and Kanban. Already in the first module, the contents are worked out, made personally tangible and linked to one's own everyday work.
Module 2: Product Ownership
The second module focuses on how products/services are developed and maintained in an agile manner. It is about alignment and orientation or the question of how clarification is brought about iteratively between implementers and requirements. This process and the responsibilities within it are essential for the effectiveness of an organization, regardless of the framework used (Scrum, Kanban,...).

Module 3: Agile attitude
In the third module, you will deal with agile mindset. The module touches on topics of individual responsibility as well as the topic of leadership in an agile environment. You will learn how the agile coach helps to ensure that the agile attitude is lived and experienced throughout the entire organization. The module concludes with a reflection on the learning journey so far.
Module 4: Scaling agile practices
Many organizations use agile working at the team level. For greater leverage, agile teams must work together. This is the only way to develop more complex products and services and manage dependencies. This module will take you through the concepts of key scaling models and provide immediate experience of their mechanisms of action in a simulation. On the last day, we dedicate ourselves again to reflecting on the individual learning journeys and design a conscious farewell together.
Module 5: Agile Transformation and Final Colloquium
Since most organizations are about moving from previous ways of working towards agility, in this module you will deal with change processes in social systems. With this, you will work on the role of the Agile Coach as a catalyst of change. You will receive implementation tools for the success factors of successful change and develop a change approach that is agile in itself. 
Mentoring by experienced Agile coaches
The overall offer of the Agile Coach training includes two one-hour individual sessions with one of our experienced wibas coaches. Here you have the opportunity to clarify and deepen personal questions.

Material for Agile Coach Training

As a participant of the Agile Coach Training you will receive the following materials:
a book "Organization in a digital age
an agility compact for quick reference

Map of change (poster with explanatory booklet)
Agile Coach Diary for notes and own development

Full service for your Certified Agile Coach training

The following services are included in this training:
Certificate as Agile Coach after completion of all modules
Photo protocol of the developed contents and work results after the modules
Possibility to network with other training participants on the mywibas platform
Delicious lunch on each training day 
Barista coffee, tea, cold drinks, fruit and healthy snacks 
Why did you decide to take the Certified Agile Coach training?
The agile transformation of our site in Budenheim is a key task for me as Head of Site Development. To promote and demand the transformation, training as an Agile Coach is very helpful, as I can apply the broad content of the training in many ways in the collaborations with the stakeholders and the teams.
How did you like the CAC training with us?
I liked the training very much. The modules were clearly conveyed by the trainers in a good mix of theory, exercises and practical examples as well as using various media. The exchange with the other participants on the respective topics also helped me to better understand and internalize the content.
What was your personal highlight that you took away?
My personal highlight was the suggestions and ideas on how we can take agile scaling to the next level at our site. These were very important impulses for me. Another highlight was getting to know the other participants. These new contacts and future exchanges will certainly generate further mutual impulses and suggestions.
Why did you decide to take the Certified Agile Coach training?
As a manufacturing company, E-T-A has long had good experience with Lean. Since 2019, we have also been working with agile methods and according to agile principles. We see Lean and Agile as sister disciplines that fit very well together. As Managing Director, I am involved in this further development of the organization, together with our management team and the group of Agile coaches. In 2019/2020, colleagues participated in the CAC training at wibas and brought a lot of it into the company.
Now it was time for us, from the level of awareness that had grown in the meantime, to participate again with a small group in the CAC training to see what possible white spots we have, to bring further impulses into the company and to define next meaningful experiments for us.
How did you like the Certified Agile Coach training at wibas?
As a company, we have greatly developed our culture over the last 20 years, creating a very positive attitude and curiosity about change in many areas. In addition, we are very strong in methods. These two modules did not show me much new in the training, which is nice: it confirms where we are. The modules on Product Owner and Agile Scaling framed these more unknown topics for me well and I was able to take away a lot for myself and our company. Thanks for that!
What was your personal highlight that you took away?
My personal highlights were that we are doing really well as a company and at the same time that there is still a lot we can develop further. The group size during the training contributed to a good and deep exchange with the other participants and we were able to learn a lot from each other. That was very valuable!
Inhouse Agile Coach Training request
Are you looking for Agile Coach training that is individually tailored to your organization? Jan will be happy to help with an in-house training.
On-site or remote, German or English.
Tell us your preferred dates and desired content.

Training as an Agile Coach as a group!
Secure an exclusive group discount for as few as 3 people. Experience the Certified Agile Coach training together or split up into different trainings. 
Interested? Feel free to write to us at:
akademie@wibas.com
Answers to the most frequently asked questions about our Agile Coach training
What requirements should I fulfill for this training?
The Agile Coach training is an in-depth training for people who already have experience in agile working. We do not require any formal qualifications (such as Certified Scrum Master of the Scrum Alliance or PSM of scrum.org), but we do expect real practical experience, preferably through agile working in self-organized teams, to the extent of at least two years. We also desire openness to engage with topics from other industries and to self-reflect.
What do I do if I cannot attend a module?
We have not scheduled any catch-up or repeat dates for the individual modules. We therefore ask you to keep the dates of the training bindingly free. If you miss a module, we will be happy to provide you with the documents from the respective module and recommend that you catch up on the content in the learning group.
Will I receive a certificate?
Upon completion of the training, you will receive the "Certified Agile Coach" certificate from wibas.
Are all costs really included?
The course price includes all costs for attending training modules one to five, the training and learning material, break catering during the day and lunch during the modules. In addition, you may incur travel and accommodation expenses. If you wish, we can organize hotel accommodation for all modules (from the evening before each module to the last day of training - i.e. a total of 13 nights) for a fixed price of 2,000 euros.
Academy
Remote or presence
We offer all our trainings in two formats: In presence at the wibas training center or remotely. Both forms are interactive live trainings with the usual wibas flair.
Academy
wibas training center
Unlike many other training providers, we have our own training center. Here you will experience a unique atmosphere that implements New Work and promotes creativity.
Academy
Around the trainings
We have summarized the important information and answers to the most frequently asked questions of the participants for you here.
 Academy
Workshop instead of foil battle

"Learning by doing" is the motto of our workshops. Because it is a real concern for us that a training with us really brings you further.
Topics
Agile organization
Two important building blocks for an agile organization are agile portfolio management and agile strategy development. We would be happy to establish this with you.
Your expert for wibas trainings:

Jana David
wibas GmbH
Jana David
Otto-Hesse-Str. 19B
64293 Darmstadt
+49 6151 503349-0