Are you responsible for agile projects? Are you curious how Scrum works and helps to deliver results early and regularly? Are you looking for a training that is 100 percent workshop and does not require slides? Then this Product Owner training from wibas is perfect for you. 

20% discount for the next level
If you have booked this training with us, you can take the follow-up training in the next 2 years. Book Advanced Certified Scrum Product Owner  with a discount of 20%.
Understand Scrum and the Product Owner role

This Certified Scrum Product Owner training (CSPO) teaches the basics of Scrum and the role as a product owner. For this we first prepare a backlog for your training. That means: All contents and topics are a proposal. We put together the "real" agenda together with you at the beginning of the training so that it fits your individual needs.
Agile Manifesto

Scrum Overview: Roles, Events, Artifacts

The task of the product owner in a self-organizing team

Collaboration of the product owner with Scrum master and development team

Product Backlog Refinement & Prepare Sprint: Product Vision, Personas, Product Backlog & User Stories

Prioritize: Estimate Story Points and Value and Optimize Value

Build in Quality: Definition of Done, Acceptance Criteria, Verification in Sprint and Validation in Sprint Review.

The role of the product owner in sprint planning, in the sprint, in the sprint review and the sprint retrospective

Structure larger Product Backlog (Story Maps)

Experience a Sprint – Developing Products Evolutionarily

Estimate and track delivery dates and scopes (e.g., velocity, release burndown)

Product owner from hell and heaven

Communication with stakeholders (customers, department, line management)

Cut Product Backlog entries small

Product owner with multiple teams

Release planning


As an attendee, you will experience what Scrum feels like and how they fill the role as a Product Owner. You will experience how to define requirements, plan releases, forecast deadlines, manage budgets and increase return on investment. Participants will gain a breadth of real-world tips and practices.


3 day training for more hands on experience

This official Certified Scrum Product Owner Training of the Scrum Alliance has a three-day format. This creates space for in-depth discussions and case consultations. Even in remote training, the three days leave us enough time to work together in peace.
Remote or Onsite training – the choice is yours.

We offer our training in two formats: Onsite at the wibas training center or remote. Both forms are interactive live trainings with the usual wibas flair. Whether the training of your choice takes place onsite or remote, you can see next to the respective date. If you book the training as an in-house variant, you decide which format you prefer.

Additional material for the training

As a participant, you will receive the Ultimate Scrum Guide as a reference book. This clearly arranged book invites you to browse and helps you to find relevant information quickly. You will also find the Scrum Poster, a Scrum Compact and a Planning Poster Set in your participant bag. This way, you are even better equipped to put theory into practice after the training.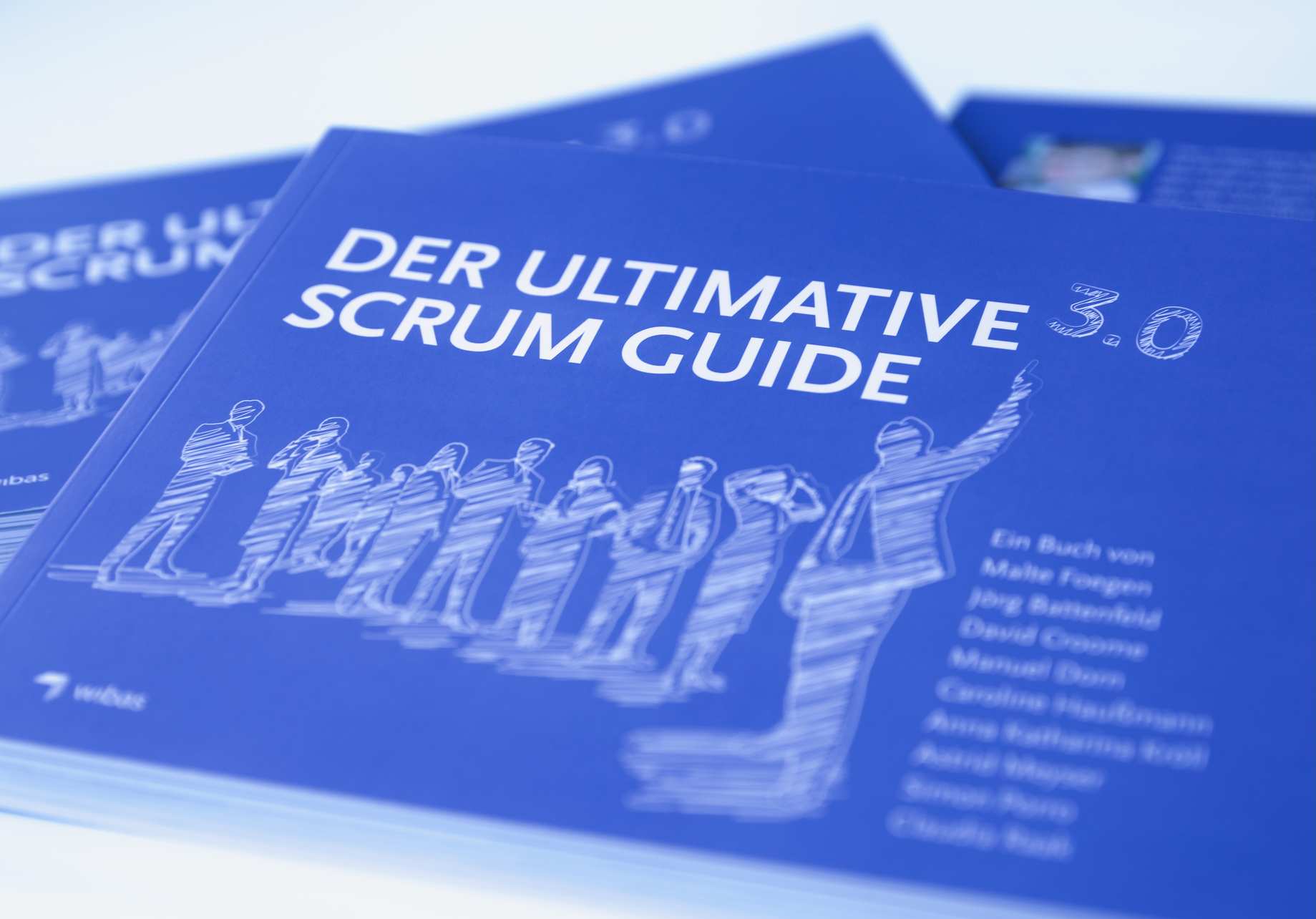 What participants say about our Certified Scrum Product Owner training (CSPO)

"I would like to thank you again for the excellent seminar! I especially liked the/your agility and I could already take over some good contents (as PO as well as for agile working) for me and the team! Overall, I believe that our company can become more agile as a result. I am already looking forward to the A-CSPO training with you."

- André Knirps, Rhineland Regional Association -

"The training took place in a very pleasant atmosphere and was a successful mix of theoretical knowledge transfer and practical exercises. We already planned the procedure in the training together with a training backlog and adapted it to our needs again and again in the course of the two days. Malte Foegen gave many practical tips and responded very individually to the group. All in all, for me it was two days well invested."
- Rüdiger Röhler-Weisheit, DB Systel GmbH -
"Very lively training with qualified, flexible, humorous and "agile" trainers. Great!!! The topic was also super conveyed to non-IT people."
- Heiner Ellebracht, eurosysteam GmbH -
"Very good organization of the training. The trainers were able to take away my initial skepticism towards Scrum :-) All questions I came to the training with found an answer, mostly in self-work. Resume: Super!"
- Tim Ettel, united-domains AG -
"Lots of suggestions, exciting exercises, an interesting group and the feeling of being fit to start with Scrum - what more could you want?"
- Christine Ulbrich, SEB AG -
"Excellent team with expertise and humor. High level of subject matter expertise and insight. Interactive approach for high learning curve. Good structuring. High methodological competence. Highest recommendation factor!!!"
- Andreas Brandt, Deutsche Börse AG -
"The training was a very refreshing, interactive and educational event. I will certainly be able to use what I learned in future projects. I am happy to recommend the trainers as well as the wibas team."
- Dr. Dietmar G. Wiedemann, Proventa AG -

Answers to the most frequently asked questions about our Certified Scrum Product Owner training.
What does "early bird" mean?
The early bird price applies to registration up to 4 weeks before the start of the training. The prices are subject to change. All prices are subject to value added tax. Accommodation costs are not included.

What cancellation fees are due if I have to cancel?
A cancellation fee of EUR 100 plus VAT is due for cancellations up to 15 calendar days before the start of the training. For registered participants whose cancellation occurs after the invoice has been sent, as well as for no-shows, a payment obligation for the entire training fee applies. If a participant cannot attend a training, their organization may have another person attend in place of the enrollees until the morning of the course start date. wibas will decide whether a training will take place no later than 15 days prior to the start date. wibas may cancel training if fewer than eight participants are enrolled at that time.

What requirements should I fulfil?
The Scrum Guide or another Scrum book such as the Ultimate Scrum Guide is recommended for reading. Practical experience with Scrum is desirable.
What training materials will I receive?
- Ultimate Scrum Guide 2.0 (book)
- Scrum Kompakt
- Planning Poker cards
- Scrum Poster
- Photo log

Is there an exam? How does it work and what do I have to consider?
There is no exam in this training?
Will I receive a certificate?
Yes. Every participant receives an official certificate from the Scrum Alliance® as a Certified Scrum Product Owner after the training.

Can I collect PDUs (Professional Development Units)?
A total of 16 PDUs can be credited for the training at PMI, e.g.: eight PDUs in Technical Project Management, six PDUs in Leadership, two PDUs in Strategic and Business Management.
Can I collect SEUs (Professional Development Units)?
Participants receive 16 SEUs for the extension of the Certified Scrum Professional (CSP) certification.

Is there catering?
The service at our open courses in Darmstadt includes a cappuccino bar and catering with drinks and small snacks. At noon we invite you to a snack.

Academy
Workshop instead of death by slides
"Learning by experience" is the motto of our workshops. Because we really care that a training with us brings you further.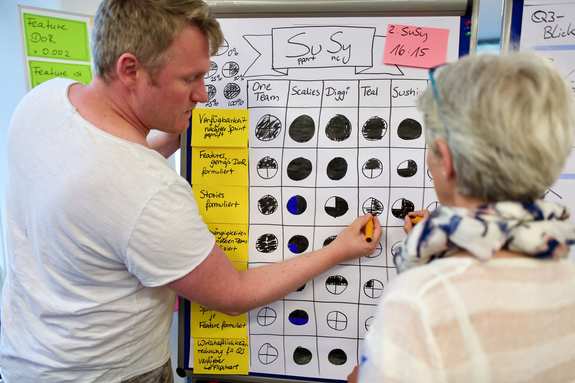 Academy
About our Trainings
We have summarized the answers to the  frequently asked questions about our trainings.
Topics
Scrum: Framework for development with agile teams

What is Scrum and how does it work? Here you get the answers.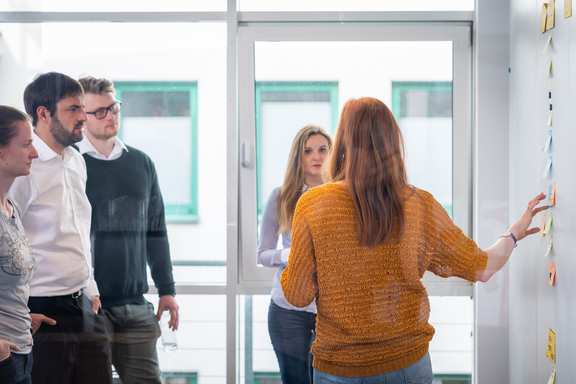 Academy
Remote or presence: the choice is yours.
We offer all our trainings in two formats: In presence at the wibas training center or remotely. Both forms are interactive live trainings with the usual wibas flair.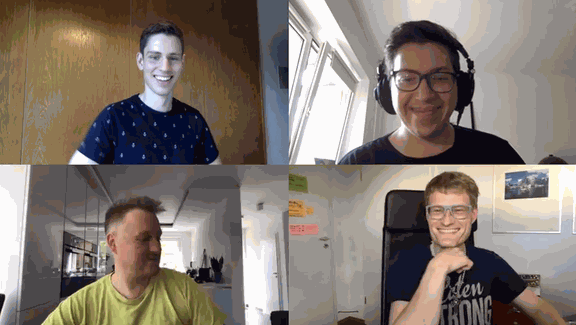 Q&A
What is a Product Owner?
The Product Owner is responsible for maximizing the value of the product resulting from the work of the Scrum Team.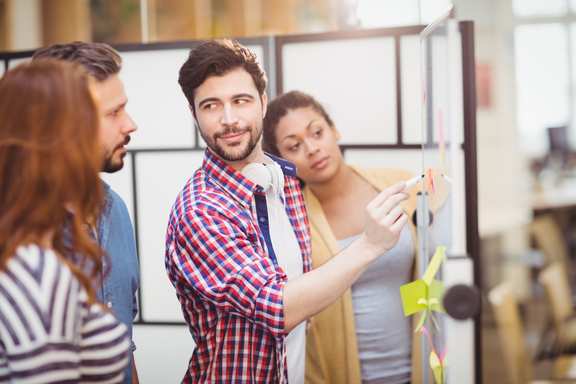 Academy
wibas Training Center
Unlike many other training providers, we have our own training center. Here you will experience a unique atmosphere that implements New Work and promotes creativity.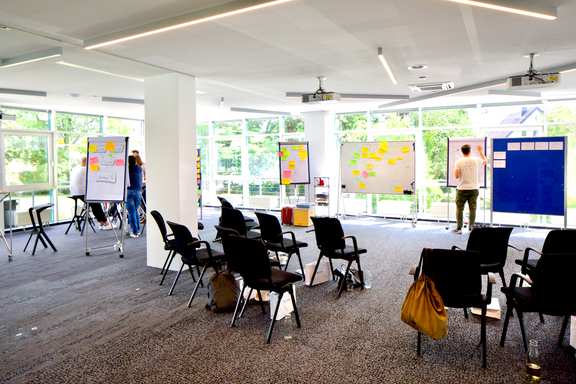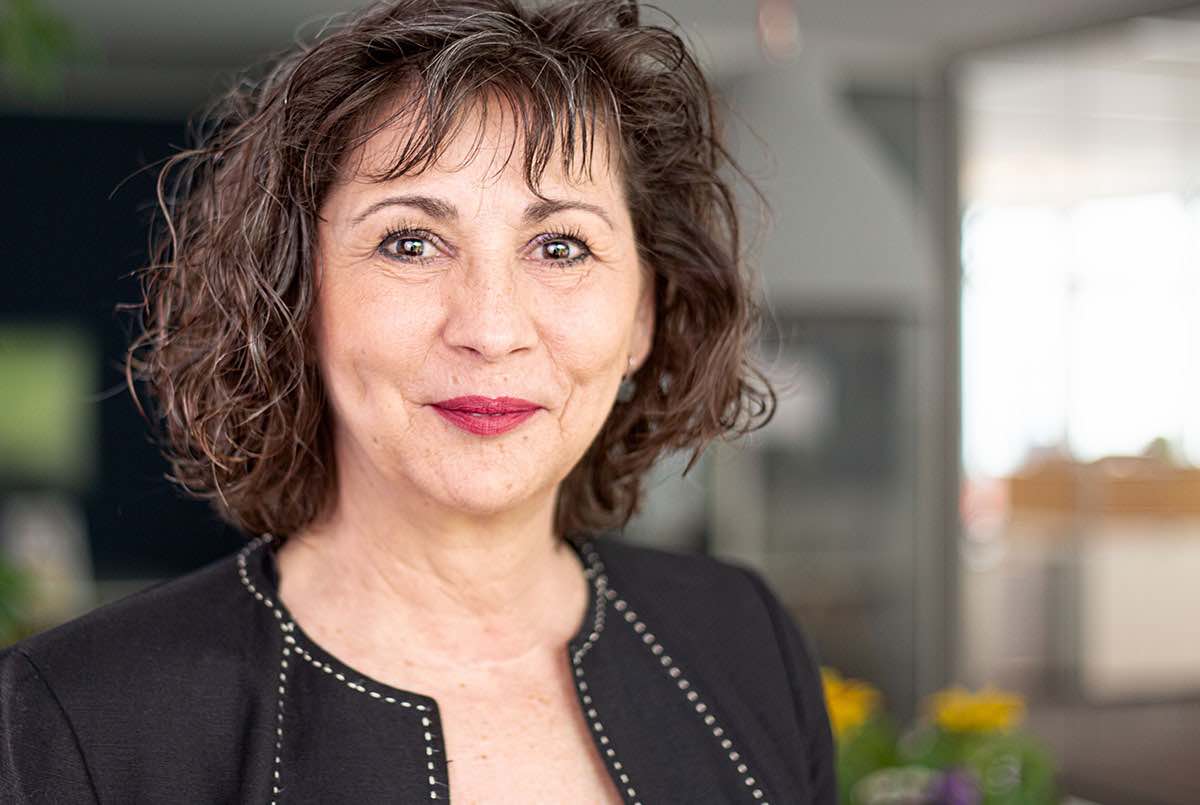 Your expert for wibas trainings:

Jana David
wibas GmbH
Jana David
Otto Hesse St. 19B
64293 Darmstadt
+49 6151 503349-0