Scaled Agile Framework
Leading SAFe 6.0 Training (SA)

How does collaboration work with multiple agile teams? How do I organize work by value streams across departments? What changes with the introduction of SAFe?
We answer these questions together in our Leading SAFe® training. We derive how SAFe works. We experience how a collaboration of multiple agile teams can work. We show how different roles can play a agile organization can support and promote. We do this in the form of a hands-on workshop and bring our many years of expertise in agile scaling to the table. From practice for practice.
The next Leading SAFe trainings:
★ ★ ★ ★ 
Optimal combination of theory and practice; great working atmosphere

Our trainers (Malte and Philipp) did a great job of illustrating the extensive theoretical content with the help of tangible practical references. Thus, we not only had pictures for practical implementation in front of our eyes, but were also very well prepared for the exam. This very positive training experience was rounded off by the great atmosphere within the entire wibas team. I am looking forward to further trainings with you.

★ ★ ★ ★ 
Full marks for the training

Hey Malte! I've participated in a variety of learnings and trainings, but none before was as fun, engaging and catchy as the Leading SAFe training you conducted with us. You did a great job of getting the content across and letting us experience some of the processes ourselves with practical examples. The lessons and tasks we were given were to the point and memorable, for which I would like to express my gratitude.

★ ★ ★ ★ 
Super training - practical, interactive & instructive

I have always expected a Leading SAFe training to be a very theory-heavy seminar. So far, this has rather kept me away from attending this training, as I learn best through interaction and visualization. But Malte, fortunately, proved me wrong. He made the topic of SAFe really tangible for us with his hands-on training and humorous explanations. Not only did he make sure that we were well prepared for the exam, but he also made sure that we really understood the content. A very interactive and educational experience!

Leading SAFe Training for anyone who wants an overview of how a scaled agile organization can work 
Leaders understand how they can support an agile organization. Coaches get an answer to what SAFe can and cannot do. Scrum Masters, Product Owners, and curious team members understand how to organize across team boundaries. Stakeholders understand how a agile organization works so that it delivers more value to them. Requirements, release and test managers or project managers will learn where these roles are found in an agile organization.
Contents of the Leading SAFe Training

In this training you will learn how a Lean-Agile organization works. You will apply the Scaled Agile Framework (SAFe®) and its underlying principles from Lean, Systems Thinking, Agile Development, Product Development Flow and DevOps and thereby understand how it works.
These contents await you:

Become a Lean-Agile Leader
Building teams and technical agility
Planning Interval (PI) Planning Experience
Release on Demand and DevOps
Business Solutions and Lean Systems
Implement Lean Portfolio Management

Interactive

Experience-based, interactive training with simulations and flipcharts, no slides


Accredited

Scaled Agile, Inc. accredited trainers explaining real applicable SAFe, not an interpretation


Innovative

Dedicated training rooms in the wibas training center with innovative equipment, no hotels

Competencies that the Leading SAFe Training provides you with

How to realize the benefits of an agile organization

How to establish team and technical agility and organize around value flow

How to align organizations around clear, common goals

How to successfully participate in important SAFe events, such as the PI Planning, participates

How to adopt a customer-centric mindset 

Leading SAFe Training Material

As a participant, you will receive a participant bag (face-to-face) or a participant box (remote) with the following materials:
Leading SAFe 6.0 Workbook, 

the book organization in a digital age,

an agility compact for quick reference.
After the Leading SAFe Training you will be even better able to put theory into practice.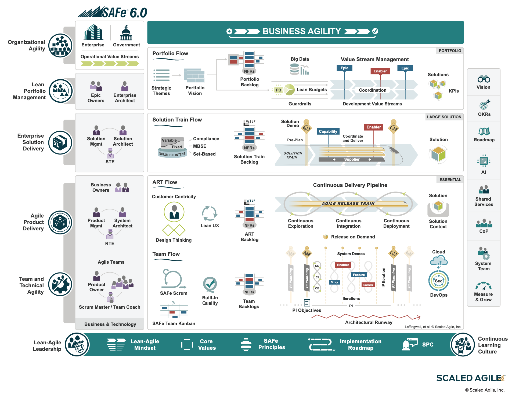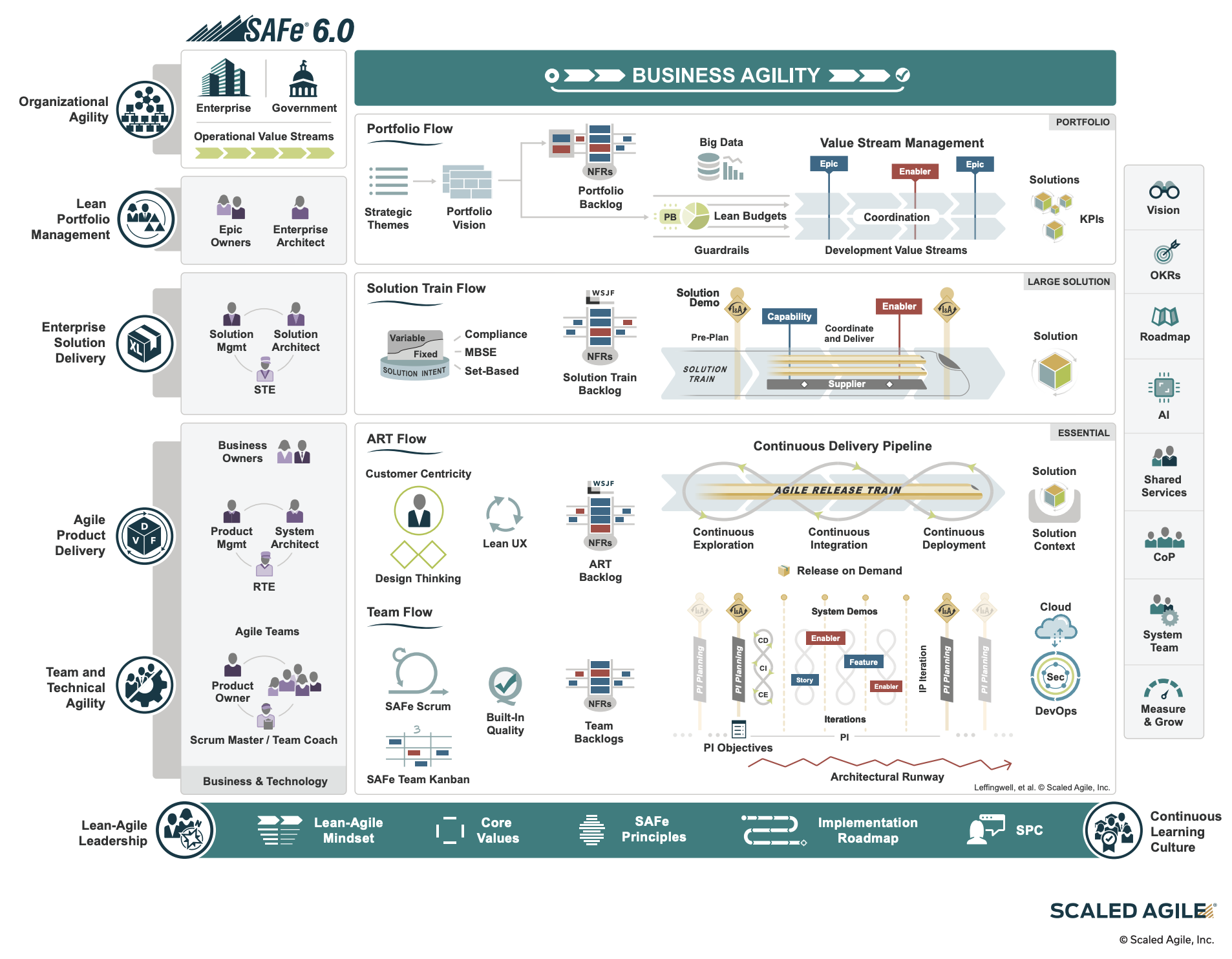 Full Service to Leading SAFe Training

The following services are included in the Leading SAFe Training:
Registration for the SAFe Agilist (SA) exam at Scaled Agile, Inc.

One-year membership in Scaled Agile, Inc.
One-year access to SAFe Studio: This provides free materials, videos, and tools that support setting up Agile release trains and applying SAFe in practice.

Photo log of the contents after the training
Possibility to network with other training participants on the mywibas platform
Lunch on each training day (face-to-face training)
Barista coffee, tea, cold drinks, fruit and snacks (presence training).


Varied mix of theory and practice

Like all our agile trainings, this one is interactive. Our focus is on experience-based learning: We impart the knowledge through exercises, we derive content together on flipcharts and we discuss practical cases. Of course, the official SAFe® slides are included. The wibas trainers are certified SAFe® Practice Consultants (SPC) of Scaled Agile, Inc. with real-world experience. More details about this training can be found on the official SAFe® Website.

Leading SAFe in 3 days

We conduct the Leading SAFe Training in three days - remotely and in presence. This gives us the space for exercises that scaled agility make it possible to experience. On this basis, we can respond to the individual contexts of the participants and answer questions from practice.
Leading SAFe remotely or in presence

We offer the Leading SAFe Training in two formats: in presence at the wibas training center or remotely. Both formats are interactive live trainings with the usual wibas flair. You can see whether the training of your choice takes place in presence or remotely next to the respective date in the training list above.

In-house Leading SAFe Training

Looking for Leading SAFe training held just for your organization? Jan will be happy to help you find in-house training. Leading SAFe on-site or remote, in German or English.
Just tell us your desired date.

Come to the Leading SAFe Training as a group!

Secure an exclusive group discount starting from 3 people. Experience the training (SA) together or on different trainings. Combine their impressions and support together their organization. 
Interested? Please feel free to write to us: akademie@wibas.com



Answers to the most frequently asked questions about Leading SAFe Training

What requirements should I meet for this training?
Scaled agility is best understood on the basis of Scrum or Kanban. Experience with agile teams should be available.
Is there an exam? How does it work and what do I have to consider?
- This is an official training licensed by Scaled Agile Inc.
- You can take the SAFe 6.0 Agilist (SA) exam at Scaled Agile Inc. after the training.
- This training prepares you optimally for this exam. 

Will I receive a certificate?
After passing the exam you will receive a certificate as SAFe® 6.0 Agilist (SA).
Academy

Workshop instead of slide battle in the Leading SAFe

"Learning by doing" is the motto of our workshops. Because it is a real concern for us that a training with us really brings you further.
Academy

Around the Leading SAFe Trainings
We have summarized the important answers to the most frequently asked questions of the participants for you here.
Topics
SAFe®: Framework for an Agile Organization
SAFe® is the most widespread framework for scaling Scrum or Agile - in other words, living it on a "large scale".
Academy

Leading SAFe Training remotely or in presence

We offer all our trainings in two formats: In presence at wibas or remotely. Both forms are interactive live trainings with the usual wibas flair.
Academy
Leading SAFe at the wibas training center
Unlike many other training providers, we have our own training center. Here you will experience a unique atmosphere that implements New Work.
Your expert for wibas trainings:

Jana David
wibas GmbH
Jana David
Otto Hesse St. 19B
64293 Darmstadt
+49 6151 503349-0