Agile scaling
Scaled Agile Framework: Rahmenwerk für agile Skalierung

The Scaled Agile Framework (SAFe) is the most widespread framework for scaling Scrum or Agile – in other words, living it on a "large scale". SAFe offers agile solutions for all levels of an organization: from teams to departments to corporate management.

Implement agility as "big picture" now

Call André Kammerlander.
"We support you in making agile collaboration work smoothly, even with multiple teams."

SAFe provides a coherent framework for agility at scale.

SAFe connects the most important agile frameworks (such as Scrum, Kanban, Design Thinking, Lean Startup, etc.) with each other to form an overall system. This allows you to use the different agile frameworks together.

Using SAFe's patterns, you can quickly create a picture of an agile organization - for a program, for an area, or for an entire organization.

All levels of an agile organization (team, multiple teams or the Agile Release Train (ART), the Large Solution level and the Portfolio level are consistently thought through and documented.

SAFe contains many well-documented techniques, roles, meetings, and artifacts.

SAFe uses familiar terms that make it easier for organizations to make the transition while still being designed in an agile way.

Agile organized collaboration
The Scaled Agile Framework's solution for multi-team collaboration is to "pull in" a cycle at a higher level of abstraction: planning interval. This solution addresses the complexity of large programs, in which
Requirements are handled at different levels of abstraction;
meetings - similar to Scrum - can also be used at higher levels;

Planning is implemented at the various levels with interlocking backlogs.
Thus, SAFe provides clear guidance on how to implement agile at scale and with multiple teams.
Coordinated cycles for a common result

Agile teams working on a common solution ("Solution") proceed in iterations. These have a common beat so that teams can synchronize their work and deliver a common result together. Around these iterations there is the larger takt, the Planning Interval (PI). This takt is a multiple of the team-level iterations. For example, if the team iterations are 3 weeks long, the Planning Interval could be 12 weeks. Thus, 4 iterations on team level run in one Planning Interval.

The Planning Interval has - analogous to the iteration or sprint of a team - a PDCA cycle (Plan-Do-Check-Act) on a higher level of abstraction:
PI Planning: This is the joint planning of several teams on the level of "larger" requirements ("features") for the next planning interval of 8-12 weeks. Such a planning interval consists of several sprints/iterations.

ART Backlog Refinements: During the Planning Interval (PI), the ART Backlog is jointly maintained. ART stands for Agile Release Train, the group of teams that are coordinated together during the interval. The ART Backlog is like the Team Backlog, only one abstraction level higher. It contains features.

System Demo: Here, the common solution created by all teams together is tested. This happens in every iteration, but of course also at the end of a planning interval.

Inspect & Adapt Workshop: Here, all teams look together at how the work worked in the last PI and how it can be improved together. This is the joint retrospective of several teams, so to speak.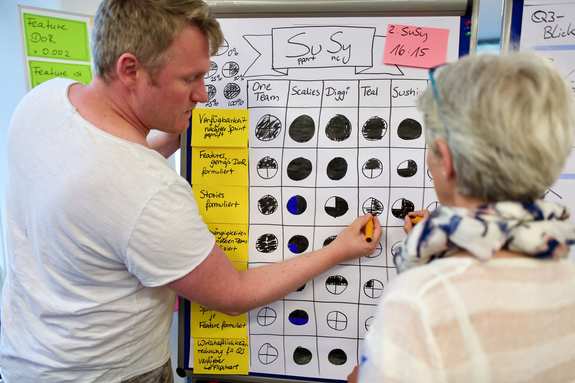 Portfolio Management

The Scaled Agile Framework also offers agile lean portfolio management, with which the portfolio of several agile programs can be controlled using Kanban techniques. Techniques from Lean Startup can also be found here.

We support you in the systematic introduction of scaled agile using the Scaled Agile Framework.
Yes, by integrating the agile frameworks and addressing an entire agile organization, the picture of the Scaled Agile Framework is complex.
But that's also being somewhat honest: the agile organization is complex. An Agile Transformation requires patience. The trick is: to cut out the part that is relevant for you at that moment and reduce the image to these elements. We support you in finding this beginning. As a Gold Partner of Scaled Agile, we offer all the workshops, trainings and guidance that are available on SAFe. We will not try to implement models dogmatically, but to find your individual solution with the help of the models.
The special thing about wibas is the pragmatism, which is especially necessary for such a comprehensive framework. And of course our years of experience in organizational development, which allows us to work not only with models, but also with people. Please feel free to call us and arrange a personal meeting. We look forward to thinking with you.

Consulting
Einführung in SAFe
Wie kann eine Einführung in SAFe kompakt gehen? Kann eine Einführung in SAFe auf Ihre Bedürfnisse abgestimmt sein? Wir erklären wie das geht.
Consulting
ART Launch und erstes PI Planning
Wir begleiten Sie bei der Vorbereitung eines solchen ARTs bis hin zum Launch. Gemeinsam legen wir den Grundstein für ein erfolgreiches erstes PI Planning.
Academy
SAFe 6.0 Trainings with wibas
Whether Leading SAFe 6.0 or Implementing SAFe 6.0, we offer the full range of Scaled Agile Academy training courses.
topics
Agile Transformation
Our Agile Transformation in combination with the SAFe Implementation Roadmap is the winning in a combination of systemic change management paired with the clear picture of the Scaled Agile Framework.
Publications
Organizations in a digital age
As a leader, are you wondering how organizations can be more responsive and faster in a digital age? Our book provides answers.

TOPIC
Objectives & Key Results
An agile framework to create a joint direction
topics
Large Scale Scrum
The Lightweight Version of Agile in Large: Large Scale Scrum (LeSS)
Your expert for Scaled Agile Framework:

André Kammerlander
wibas GmbH
André Kammerlander
Otto Hesse St. 19B
64293 Darmstadt
+49 6151 503349-0