SCALED AGILE FRAMEWORK
Implementing SAFe 6.0 Training (SPC)

Is your organization starting a transformation based on the Scaled Agile Framework (SAFe®)? Do you use SAFe® to coordinate and scale agile teams? Do you want to support the implementation of SAFe® as a SAFe® Practice Consultant (SPC) - e.g. by starting Agile Release Trains (ARTs)? Then this Implementing SAFe 6.0 training with SPC certification is ideally suited for you.

The next Implementing SAFe trainings:
Learn to lead a Lean-Agile transformation with SAFe®.

In this four-day Implementing SAFe 6.0 training course, we will train you as a change agent for business agility. As a certified SAFe® Practice Consultant (SPC), you will help your company to succeed in a disruptive market. In the online version, the training lasts five days to leave more room for breaks.
During the Implementing SAFe 6.0 training you will learn how to implement a Lean-Agile-transformation by using the methods and principles of the Scaled Agile Framework. You will learn how to effectively support large transformation programs and how to set up Agile Release Trains . You will also learn how to create a continuous delivery pipeline, a DevOps-culture and to establish an effective and efficient Lean Portfolio Management .
Training as a trainer and change agent
The first part is a train-the-trainer session so that you can teach Leading SAFe® in your organization. It helps if you already know the contents of the Leading SAFe® so that you can concentrate on the teaching aspects. In the second part, we focus on what is necessary to successfully introduce SAFe® in your company.

Contents of the Implementing SAFe Training (SPC)

Part one: Trainer training for Leading SAFe®
Introduction to the Scaled Agile Framework

Become a Lean-Agile Leader

Building teams and technical agility

Planning Interval (PI) Planning Experience

Release on Demand and DevOps

Business Solutions and Lean Systems

Implement Lean Portfolio Management


​Part two: Implementing SAFe
reach and accompany the SAFe® turning point

design the SAFe® implementation

coach the ART execution

extend the SAFe® implementation to the portfolio

maintain and improve the SAFe® implementation

become a SAFe® Practice Consultant (SPC)



Interactive

Experience-based, interactive training with simulations and flipcharts, no slides


Accredited

Scaled Agile, Inc. accredited trainers explaining real applicable SAFe, not an interpretation


Innovative

Dedicated training rooms in the wibas training center with innovative equipment, no hotels

Competencies that the Implementing SAFe Training will provide you with

Lead the Lean-Agile transformation across the enterprise

Implement SAFe®

Establish and support a Lean Portfolio

Align the organization around a common language and way of working

Perform a value stream identification

Set up, coordinate, and manage Agile release trains. support

Develop and execute major implementation strategies


Configure SAFe® for your individual business context.

Conduct Leading SAFe® Trainings

Create an action plan for your own development as a SAFe® Practice Consultant.
Material for the Implementing SAFe Training

As a participant, you will receive a participant bag (face-to-face) or a participant box (remote) with the following materials:
Implementing SAFe 6.0 Workbook 

the book "Organization in a digital age",

an agility compact for quick reference.
After the Implementing SAFe Training, you will be in an even better position to put theory into practice.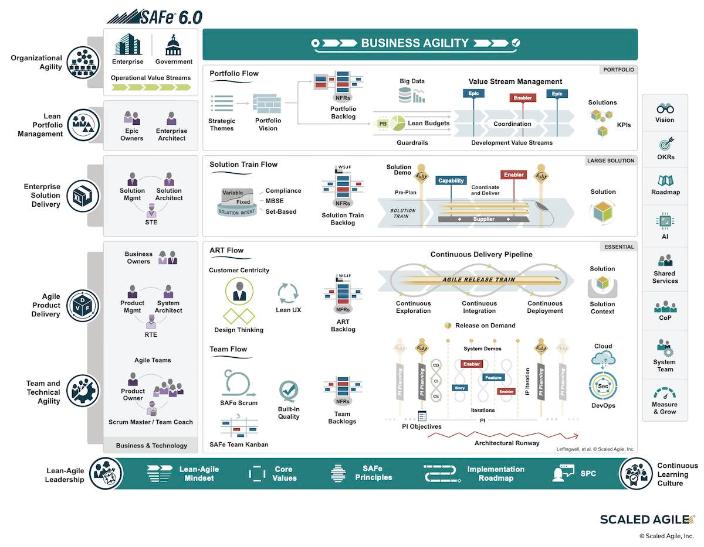 Full-Service to Implementing SAFe Training

The following services are included in this Implementing SAFe Training:
Registration for the SAFe Practice Consultant (SPC) exam at Scaled Agile, Inc.

One-year membership in Scaled Agile, Inc.
One-year access to SAFe Studio: This provides free materials, videos, and tools that support setting up Agile release trains and applying SAFe in practice.

Photo log of the contents after the training
Possibility to network with other training participants on the mywibas platform
Lunch on each training day (face-to-face training)
Barista coffee, tea, cold drinks, fruit and snacks (presence training).
Who is this training for?

The Implementing SAFe training is intended for anyone involved in a leading role in a SAFe® implementation. This includes practitioners, change agents, and consultants responsible for implementing Agile Release Trains and Lean Portfolios as part of an enterprise-wide Lean-Agile transformation:
Internal change agents, Lean Agile Center for Excellence (LACE), Agile workgroups.
Portfolio Manager, Project/Program Management Staff (PMO).
Development, QA and IT management
Program and project manager
Process owner and Lifecycle Governance
Varied mix of theory and practice

Like all our agile trainings, this Implementing SAFe training is interactive. In addition to the official SAFe® slides and exercises, we additionally convey the knowledge using meaningful flipcharts. The wibas trainers are certified SAFe® Practice Consultants (SPC®) of Scaled Agile, Inc. For more details on this training, please visit the official SAFe® Website.
Implementing SAFe Training remotely or in presence

We offer the Implementing SAFe Training in two formats: Face-to-face at the wibas training center or remotely. Both formats are interactive live trainings with the usual wibas flair. You can see whether the training of your choice takes place in presence or remote next to the respective date in the training list above.

In-house Implementing SAFe Training

Looking for SAFe training held just for your organization? Jan will be happy to help you find in-house training. Implementing SAFe training in presence or remote, in German or English. Just tell us your preferred date.
Come to the Implementing SAFe Training as a group!

Get an exclusive group discount starting with 3 people. Experience the Implementing SAFe (SPC) training together or on different trainings. 
Interested? Please feel free to contact us:
akademie@wibas.com
Answers to the most frequently asked questions about Implementing SAFe Training

What prerequisites should I meet for this Implementing SAFe training?
This training builds on existing knowledge in Agile. It is particularly useful if you meet the following prerequisites:
- Experience in development, business analysis, product or project management
- Experience in agile
- One or more relevant agile certifications
Is there an exam? How does it work and what do I have to consider?
- This is an official Implementing SAFe Training licensed by Scaled Agile Inc.
- You can take the SAFe 6.0 Practice Consultant (SPC) exam at Scaled Agile Inc. after the training.
- This training prepares you optimally for the exam.

Will I receive a certificate?
After passing the exam, you will receive a certificate as SAFe 6.0 Practice Consultant (SPC).

ACADEMY

Implementing SAFe remotely or in presence
We offer all our trainings in two formats: In presence at the wibas training center or remotely. Both forms are interactive live trainings with the usual wibas flair.
ACADEMY

Around the Implementing SAFe Trainings
We have summarized the important answers to the most frequently asked questions of the participants for you here.
Topics
SAFe®: Framework for an agile organization
SAFe® is the most widespread framework for scaling Scrum or Agile - in other words, living it on a "large scale".
ACADEMY

Implementing SAFe as a workshop instead of a slide battle
"Learning by doing" is the motto. Because it is a real concern for us that a training with us really brings you further.
Academy
Implementing SAFe at the wibas training center
Unlike many other training providers, we have our own training center. Here you will experience a unique atmosphere that implements New Work and promotes creativity.
Your expert for wibas trainings:

Jana David
wibas GmbH
Jana David
Otto Hesse St. 19B
64293 Darmstadt
+49 6151 503349-0