Academy
Agile Simulation: Experience Agility in 4h 
Always wanted to know what agile is and how it works? Getting people excited about agility through storytelling quickly reaches its limits. An agile simulation, however, makes it possible to experience very quickly how agility works and thus also the advantages of agility. Experience "agility" with us in an agile simulation  - and a lot quickly becomes clear.
The agile simulation says more than 1000 words
In our workshops you can practically experience agility in simulations. One hour of simulation says more than 1000 words about agility. These real life situations in fast motion give you the opportunity to play things through. This offers participants the experience of agile approaches and the opportunity to reflect on the effects and and their possible impact on daily work patterns. 

Agile simulation conducted by experienced Scrum and Kanban trainers
Our trainers provide profound Scrum and Kanban expertise together in a simulation. Learn with them the effects of agility in a short simulation.

Three modules of four hours each.
We offer the agile simulation in three modules of four hours each. The three modules build on each other and map different levels in the organization: Team level, Cross-team coordination level and Portfolio level.
In-house agile simulation in individual format

We are also happy to conduct in-house agile simulations in a customized format. We successfully conduct agile simulations for individual teams up to 150 people. Whether it's a development team, a group of executives, or entire organizational units. The duration can vary from two hours to a full day. However, the agile simulation always fulfills its goal and motivates the participants to implement agile ways of working in their daily work.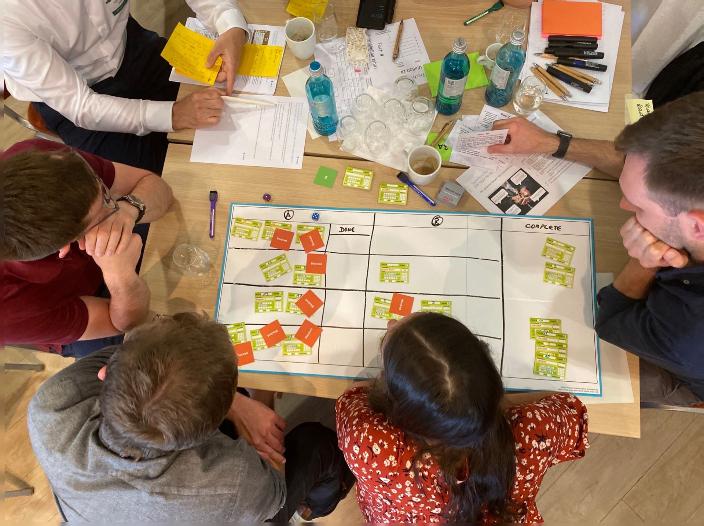 Request agile Simulation
We will be happy to design a suitable simulation for your organization and your needs!
Ask for your preferred date, Jana David will be happy to help you.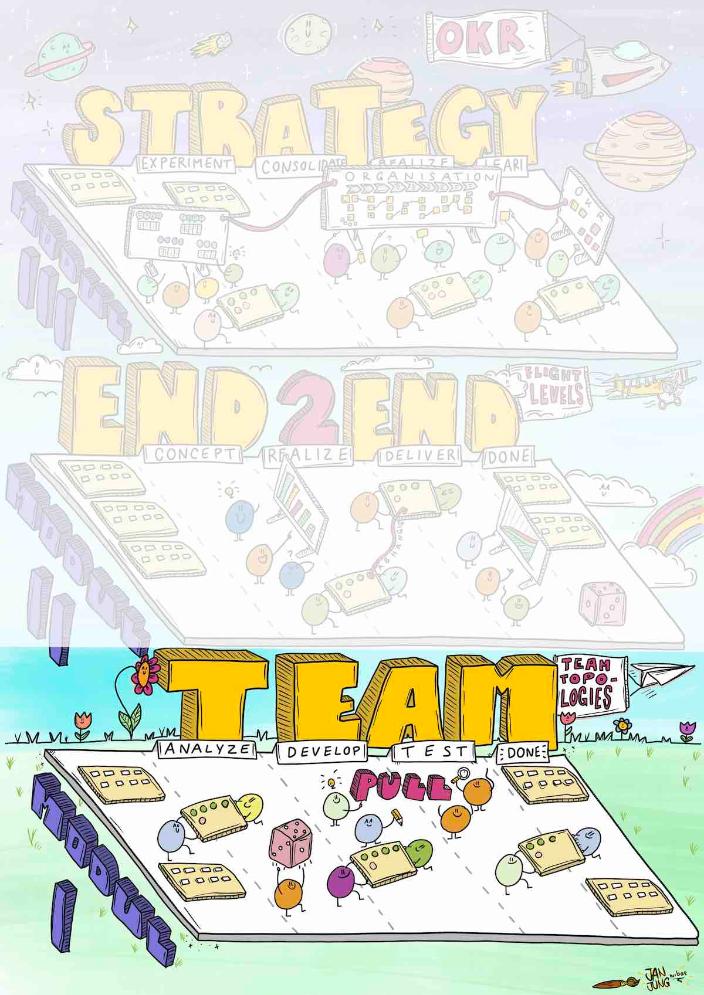 Agile Simulation Module 1: Agility in the Team
Suitable for: Flight Level 1, Scrum, Kanban teams, collaboration between Stream Aligned/Complicated Subsystem teams.

In this module you will experience:

the introduction to agile working methods
what you can do concretely to bring work into the flow
The difference between push and pull system, overload and being focused ready
the difference between individual work and true teamwork.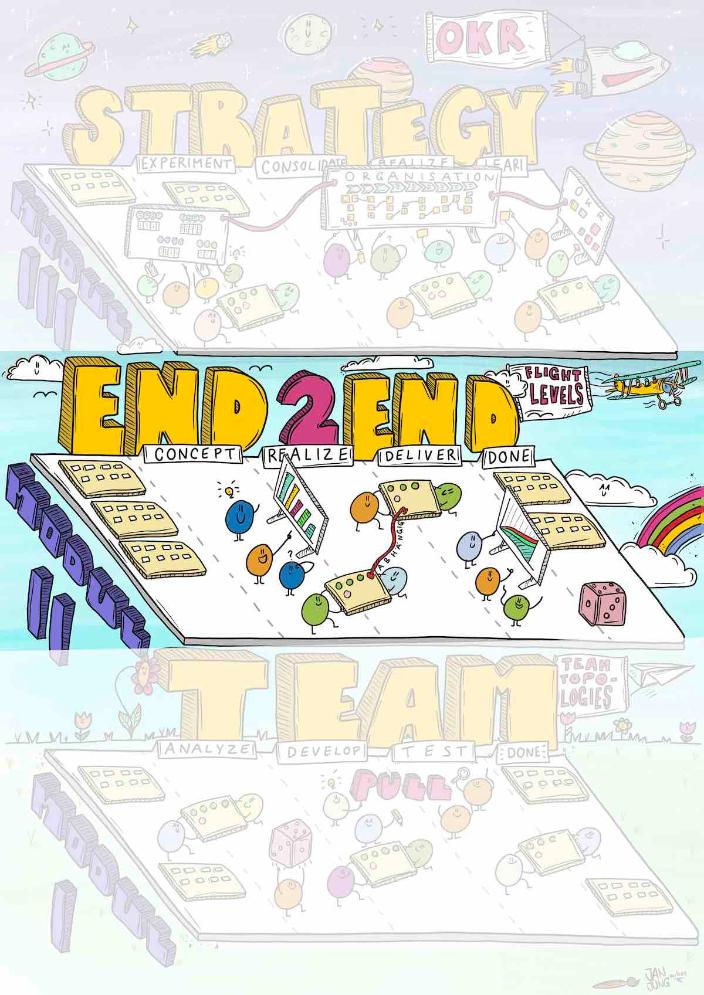 Agile Simulation Module 2: End to End Coordination (builds on Module 1).
Suitable for: Flight Level 2, program level in SAFe, agile scaling, collaboration between stream aligned/platform/enabling teams.
As soon as several teams work together on a solution or service, the question is: how can we coordinate end to end.
The simulations in this module make it possible to experience what it feels like when agile teams are already functioning individually, only the overarching bracket is missing.
You will also experience multiple approaches to solutions - up to complex dependencies in partial deliveries between teams. Depending on your preference, we will go into cross-cutting metrics together and give an introduction to the Kanban Flight Level metaphor.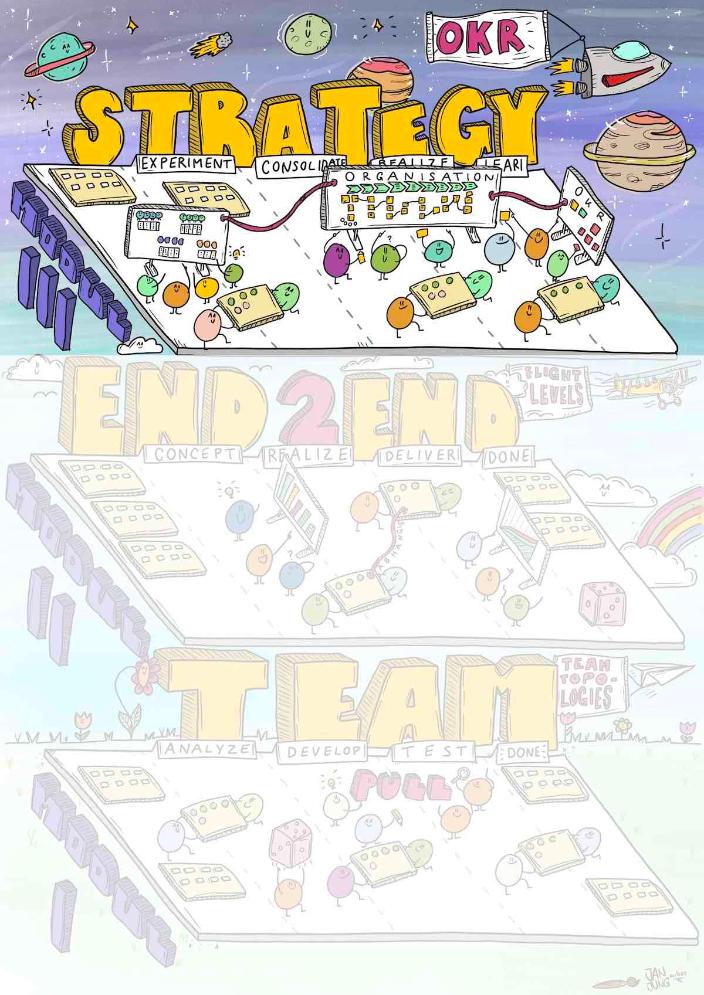 Agile Simulation Module 3: Strategic Coordination (builds on Module 2)
Suitable for: Flight Level 3, Portfolio Level in SAFe, Leadership Team, Strategic Business Development.
Common alignment based on corporate or divisional strategy is often a challenge.
This module is about how you can make strategy a reality.
If needed, we address different objectives for teams and larger organizations here, e.g. using OKRs.
Request an agile simulation now
Create the opportunity for your colleagues to experience agility and see the benefits with a simulation we run for you in-house. Jan will be happy to help you.

At the desired location or remotely, German or English
This is what an agile simulation looks like
Patrick Steyaert and Arlette Vercammen from Okaloa Flowlab have developed agile simulations in the form of analog and digital board games. These simulations make the difference between traditional and agile working methods tangible. They show the difference between push- and pull-based work, between overload and focus, one-on-one work and true teamwork, between rigid plans and responsiveness.
Topics
Scrum
Scrum: the agile framework for developing solutions to complex problems.
Topics
Kanban
Kanban gets work flowing, focuses services and leads to less waste.
Academy
Kanban System Design (KMP I)
Understand Kanban and discover benefits in our certified Kanban System Design training from Kanban University.
Academy
Kanban System Improvement (KMP II)
Deepen Kanban knowledge: come to the certified Kanban System Improvement training of Kanban University.
Academy
Certified Scrum Master (CSM)
Learn Scrum as a Scrum Master in an interactive workshop.
Academy
Certified Scrum Product Owner (CSPO)
The Product Owner training with certificate of the Scrum Alliance.
Success Story
Kanban Service Team - a development journey
Success Story: Kanban trainer Julia helped our service team to develop into a self-organized team with Kanban Board. This raised the awareness for continuous improvement.
Topics
Scaled Agile Framework (SAFe)
The framework for an agile organization.
Academy
Leading SAFe® (SA)
The training to introduce SAFe - the framework for an agile organization.
wibas GmbH
Jana David
Otto-Hesse-Str. 19B
64293 Darmstadt
+49 6151 503349-0