Are you a software engineer, developer or tester working in an agile scaled environment? Would you like to learn about agile principles, practices and tools for software engineering and quality assurance? Then this in-house training is right for you.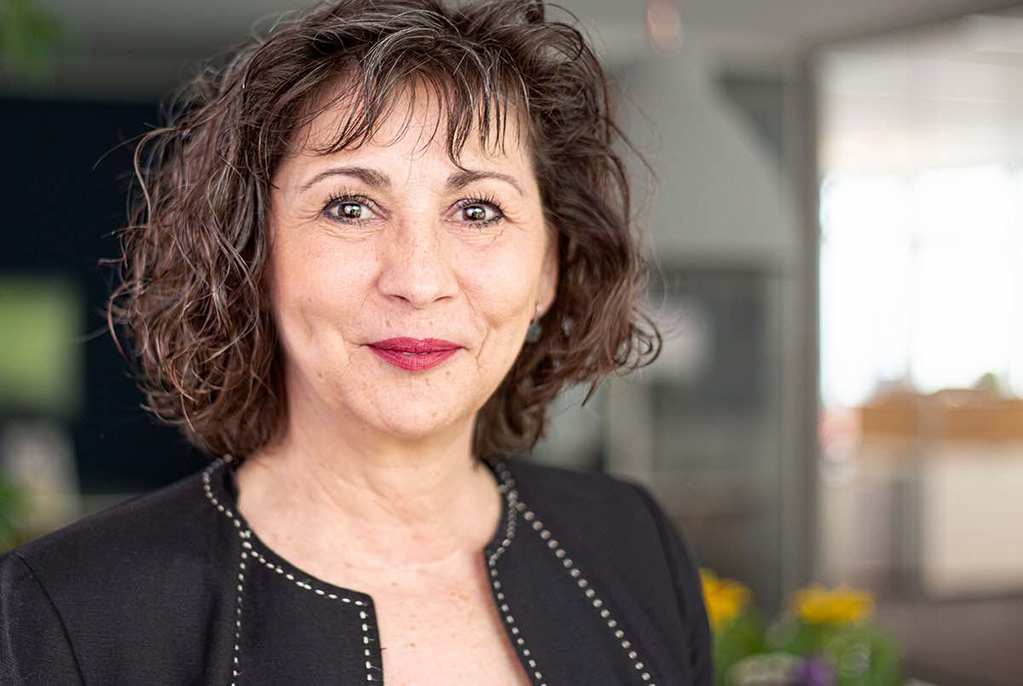 Request SAFe® Agile Software
Engineering now
Inhouse Training
3 days (remote 4 days)
on location or remote
German or English
Jana David will be happy to help you.


Understand and implement software engineering

The discipline of software engineering has evolved in recent decades with the adoption of Lean-Agile and DevOps principles and practices. New skills and approaches are helping organizations deliver software-centric solutions faster, more predictably, and with higher quality.

During this three-day training (remote four-day), you will learn the fundamental principles and practices of Agile software engineering. You will learn how modern practices such as XP, Behavioral-Driven Development (BDD), and Test-Driven Development (TDD) drive continuous value creation and improve quality. You will learn methods to detail, model, design, implement, test, and validate stories in a SAFe Continuous Delivery pipeline. You will also learn how software engineering fits into the larger solution context and the role you play in architect collaboration and DevOps.
Competencies that the training will provide you with

Understand and implement Agile Software Engineering


Apply test-first principle and Behavior-Driven Development (BDD)

Connecting Principles and Practices with Built-In Quality


Understand Agile Modeling to foster collaboration

Design out of context for testability

Create applications with code and design quality

Use test infrastructure for automated tests

Understanding the interplay between intentional architecture and emergent design

Apply Lean-Agile principles to optimize the value stream

Create a personal Agile Software Engineering plan

Model based communication

Varied mix of theory and practice
Like all our agile trainings, this one is interactive. In addition to the official SAFe® slides and exercises, we additionally convey the knowledge using meaningful flipcharts. The wibas trainers are certified SAFe® Program Consultants (SPC) of Scaled Agile, Inc. For more details about this training, please visit the official SAFe® Website.
Remote or presence – the choice is yours.

We offer our in-house events in two variants: On-site at your company or remote. Both forms are interactive live trainings with the usual wibas flair. You decide which format you prefer – depending on the current Corona regulations, of course.
Who is this training for?

This training is primarily for the technical members of an agile team:
Developer and tester

Product owners, scrum masters, managers, and others with less technical backgrounds are also welcome to gain insight into the development process to foster team collaboration.
Answers to the most important questions

What requirements should I meet?
Anyone can participate in this training - regardless of how experienced they are. However, if you meet the following prerequisites, the training will be more productive.
- Understanding of SAFe® for Teams
- Background in engineering, development, development management, or quality assurance.
What training materials will I receive?
- the official workbook for SAFe® 5 Agile Software Engineering (ASE) by Scaled Agile Inc.
- participant bag with materials from wibas a.o. book Organization in a Digital Era by Malte Foegen
- Access to free licensed materials, videos and tools, content and resources you need to practice SAFe every day
- Access to SAFe® Collaborate, an online visual workspace.

Is there an exam? How does it work and what do I need to know?
- Exam name: SAFe® 5 Agile Software Engineer Exam
- Exam format: multiple-choice
- Exam implementation: web-based, without tools/reference books and external support at a fixed implementation time
- Access: through the community platform
- duration: 120 minutes
- number of questions: 42 out of 60
- Language: English
- Exam cost: the first attempt is free if you take the exam within 30 days of the training.
- Retake Policy: You can take the second attempt immediately after the first. You must wait ten days for the third attempt and 30 days for the fourth. Each repetition costs 50 USD. For questions about the repetition please contact support@scaledagile.com.

Will I receive a certificate?
If you pass the exam, you will receive the SAFe® 5 Agile Software Engineer certificate. You will also receive:
- Digital SAFe® 5 Agile Software Engineer badge to promote your achievement online
- One-year SAFe® 5 Agile Software Engineer membership, which includes access to the ASE Community of Practice
- Access to a variety of learning resources to support certified professionals on their SAFe journey

Certifications expire one year from the date the certification was earned. The renewal fee is $100.

ACADEMY

Workshop instead of foil battle
"Learning by experience" is the motto of our workshops. Because we really care that a training with us brings you further.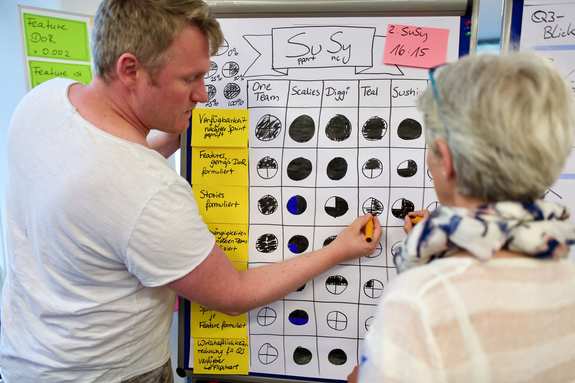 ACADEMY

About our Trainings
We answer the frequently asked questions about our trainings.
Topics
SAFe®: Framework for an Agile Organization
SAFe® is the most widespread framework for scaling Scrum or Agile - in other words, living it on a "large scale".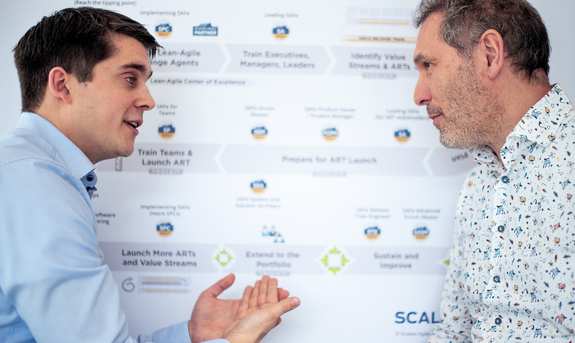 ACADEMY

Remote oder Präsenz: Sie haben die Wahl.
We offer all our trainings in two formats: In presence at the wibas training center or remotely. Both forms are interactive live trainings with the usual wibas flair.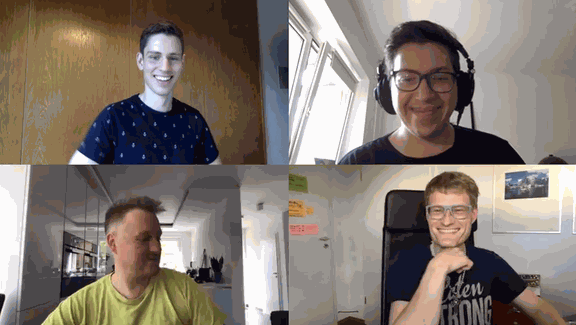 Academy
wibas Training Center
Unlike many other training providers, we have our own training center. Here you will experience a unique atmosphere that implements New Work and promotes creativity.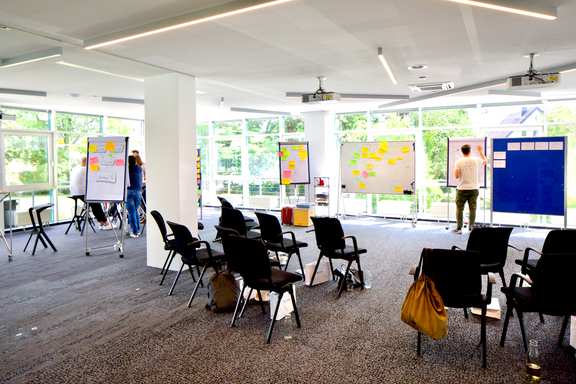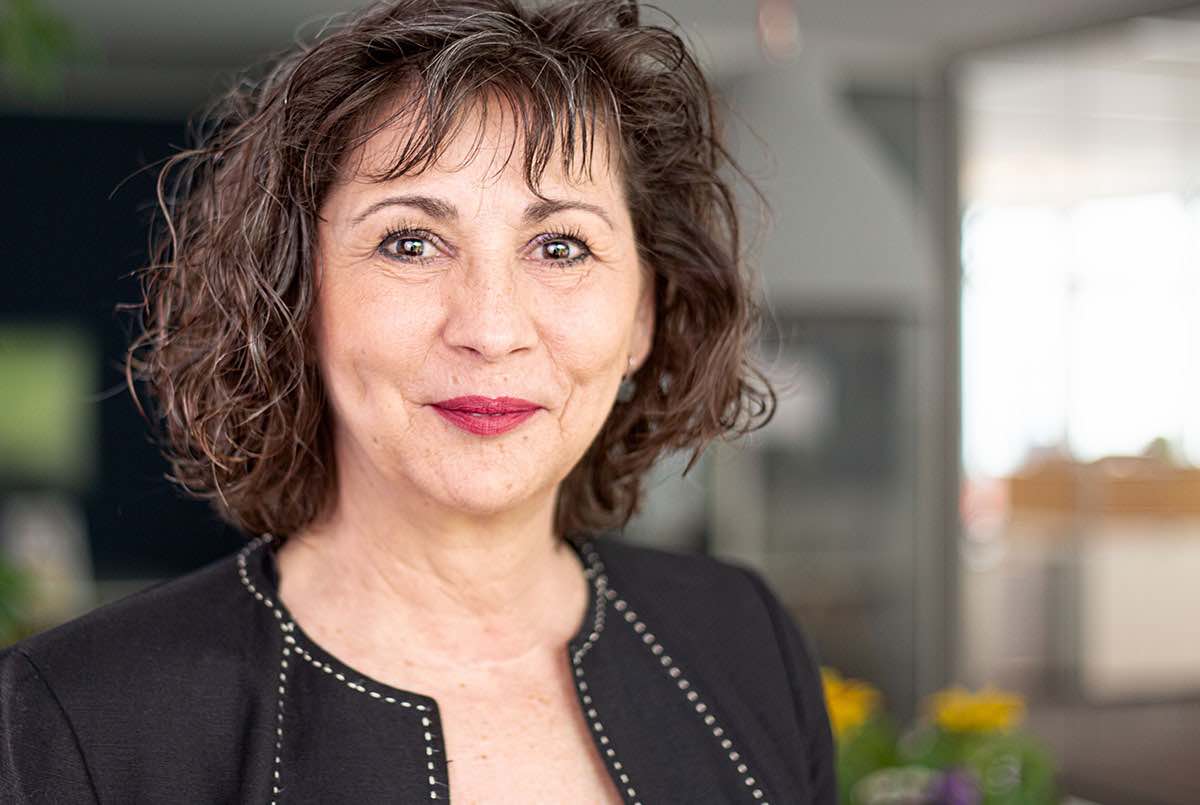 Your expert for wibas trainings:

Jana David
wibas GmbH
Jana David
Otto Hesse St. 19B
64293 Darmstadt
+49 6151 503349-0