Certified Scrum Professional - ScrumMaster
The official training of the Scrum Alliance to become a Certified Scrum Professional (CSP-SM). Explore the subject of agility and Scrum in an interactive workshop. Distinguish yourself as an expert with your qualification on the market. After this CSP expert level certification comes "only" the most distinguishing mentoring level: Certified Enterprise Coach or Certified Scrum Trainer.
We offer our trainings in two formats: Onsite in the wibas training center or remote. This year's CSP-SM is planned as a workshop onsite in our facilities in Darmstadt, Germany.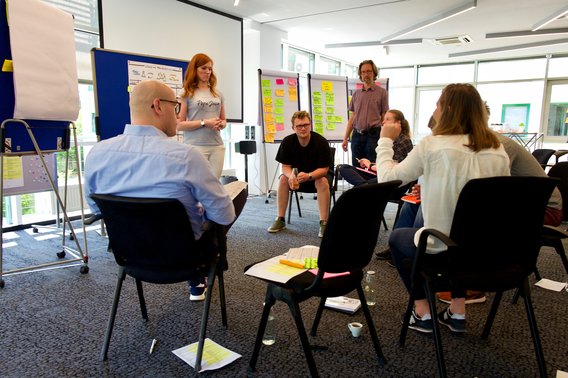 We have an exciting 2+1 day program for you:
We cover the Lean foundation of Scrum and Agility, so that you can connect Agility and Lean.
We deepen your Scrum Master skills. We practice practice coaching, facilitation and training. We go into important psychological concepts. So you are better equipped for everyday life.
We examine models and techniques for the development of your teams - and apply them. Questions include setting up new teams and developing high performance teams. This helps you help your teams to become more performant (and happier).
We help you to coach product owners so that they master their Product owner role.

We analyze how complex systems work and what added value agility brings, so that you can develop organizations and interact with management.

We analyze key aspects of multi-team Scrum and practice large participatory meeting formats so that you can manage large Scrum teams.
We work with you on your own personal development.

 
Upcoming Training Dates:
The following scheduled trainings are offered in German language. English is also possible for an in-house training for your company. Call Jana: +49-6151-503349-44.
Remote or Onsite? 
Remote or onsite at our wibas training center - both formats are interactive, live and good. With both formats the participants say: "Yikes, 8 hours already?". What you like better is up to you. We offer both formats.
|   | Remote | Onsite |
| --- | --- | --- |
| Workshop format | yes | yes |
| 100% Live | yes | yes |
| Participant driven learning agenda | yes | yes |
| introductory elements and impulses | yes | yes |
| group work | yes | yes |
| Interactive | yes | yes |
| Scrum Simulation | yes | yes |
| Box with materials | yes | yes |
| Snacks | yes (if you don't eat them before) | yes |
| Lockdown Failsafe | yes | can be switched to remote with renewed restrictions |
| Travel time | not necessary, more time for family | is required |
| Practice remote moderation | yes | only simulated |
| Quality of results | precise, jointly developed documents | Post-Its, photos |
| Access to supplementary information from the Internet | always available and can be integrated into shared documents | only in selected work situations |
| Video conference technology (stable Internet, headset, ...) | required | not required |
| Communication | via video conference | face-to-face |
| Away from the computer | no | yes |
| Experience wibas New Work Office | no | yes |
| wibas coffee bar | no | yes |
| wibas "flair" | yes | yes |
Your benefits from of this CSP-SM workshop
Prerequisites:
Structure of our 2+1 A-CSM Workshop
This workshop consists of 2 days, about half a year of practical experience, and a third day. During the 2+1 workshop days we work together on the topics that are close to your heart and will help you to move forward.
The workshop builds on your practical experience as an Advanced Certified ScrumMaster. We learn together as a team and work on practical cases participants bring to the workshop. This enables us to learn together, from each other and from the trainer. The structure of 2+1 days allows you to apply what you have learned, come back and reflect with the team.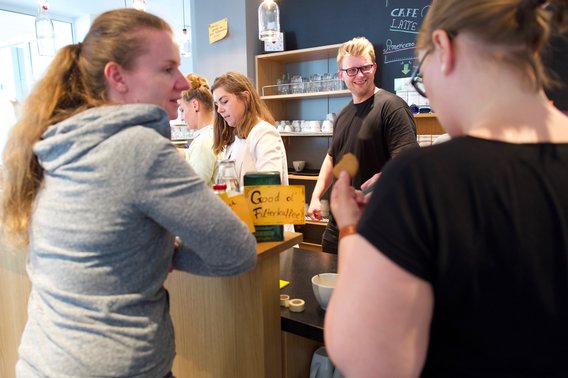 Our coffee bar is the ideal meeting point for an exchange of ideas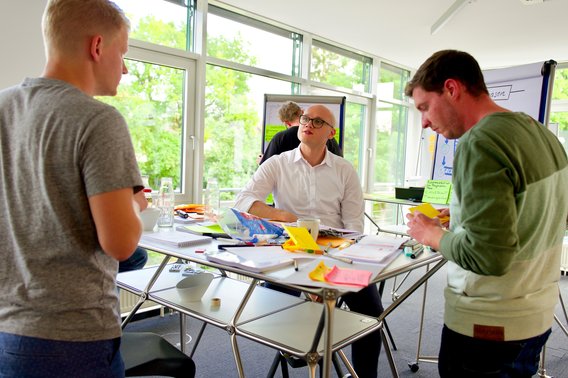 Teamwork during a training course
Do you have questions?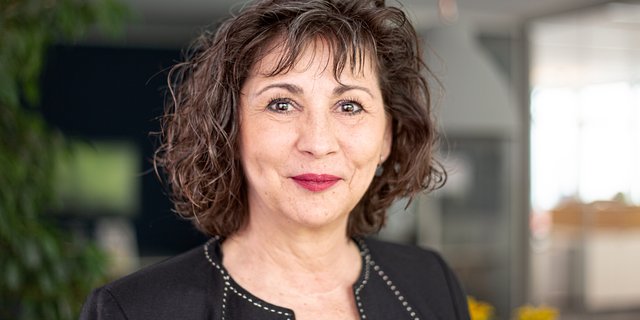 Jana David
Training, Consulting & Events